Q&A with Miles and Lyle Thompson of the Georgia Swarm
Featured in the Atlanta Business Chronicle
On March 18, Atlanta Business Chronicle's Phil W. Hudson sat down with Georgia Swarm players Miles and Lyle Thompson, "two of the most recognizable and best lacrosse players on the planet right now."
The two brothers along with their other two brothers, Jeremy and Jerome Jr., are the only Nike (NYSE: NKE) endorsed players in theNational Lacrosse League, which inked a three-year deal in 2013 with Baltimore-based Under Armour Inc. (NYSE: UA) making Under Armour its official apparel, footwear and equipment provider. Lyle is the first player in NCAA history to win back-to-back Tewaaraton Trophies — the equivalent of the Heisman Trophy in lacrosse. In 2014, the two brothers shared the Tewaaraton making them the first Native Americans and the first duo to co-win the award. The brothers are members of the Onondaga Nation in upstate New York and have become synonymous with their long braids, a traditional Native hair style. In addition to their roles as professional athletes, the brothers are ambassadors for Nike's N7 brand, which sells Nike products directly to Native American tribes to support health promotion and disease prevention programs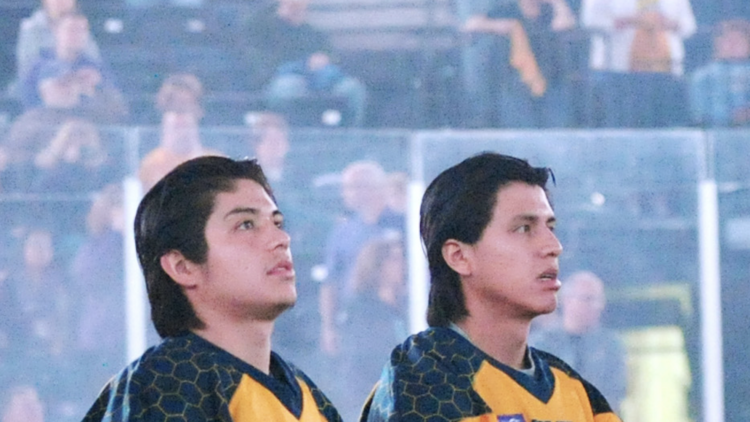 Atlanta Business Chronicle: How were y'all introduced to the game?
Lyle Thompson: Lacrosse is a Native American game. Lacrosse is really big in our community. Well, not just in our community but in the entire Iroquois Confederacy. The Six Nations — Onondaga, Cayuga, Seneca, Mohawk, Oneida and Tuscarora — are all pretty competitive in lacrosse. I wouldn't say they are hotbeds in America or Canada but a lot of talent comes out of there. They can compete with any hotbed in my eyes. I grew up playing with everybody and we always played the best teams. We were surrounded by the game as kids. I think even if my dad didn't introduce us to the game or put a stick in our hands, we would have picked it up anyway because the whole community plays the game. It's huge on the reservation where my dad is from — north of Syracuse. Whatever direction I go in; I'm surrounded by lacrosse so I would have easily picked the game up. For us Native Americans, it's a tradition you put a lacrosse stick in your kids hand when they are born.
Miles Thompson: Every male.
LT: Yeah. It's to pass the game on. We learn a lot of things through our culture and through lacrosse.
MT: From what I was told, it was our mom who introduced us to the game. Our father was an ironworker so he gone all day. My mom said she played with us and I can see that today. My sister has a little boy and he already knows how to scoop up the ball and my mom is home with him all day. When my dad would get home, he would drop everything he was doing and play catch with us. It came from both of them. They both put the work in.
LT: They weren't pushing us to be athletes, they were pushing us to be active. It's hard to explain when it comes to our community. We just picked up the stick. When I was a kid, I would get home, grab my stick and play outside until the dark came. In the morning, I would wake up early, grab my stick and play until the bus came.
MT: I don't know if this helped but we grew up without electricity and running water. We didn't have Xbox or PlayStation. We just had our four brothers and our lacrosse sticks.
ABC: Has the game become commercialized on reservations or is it still very organic?
MT: I don't think it's commercialized at all on the res. I just feel like it's all about pickup games. The way you find out there is a medicine game is, it's that time of year, you have a meeting and one person tells the other.
LT: Yeah, it just kind of spreads by mouth. I don't think it's commercialized at all, especially on the reservation. It wasn't commercialized off the reservation when we were kids. We are players who are playing just for fun and because it brings communities together. There are rivalries between Onondaga, which is south of Syracuse, and New Town, which is south of Buffalo. It's two different tribes and it brings the whole community together. At the end of summer, we play for Onondaga and we don't get paid. We do it just for fun. In our community, my brothers and I are known as four of the best lacrosse players so people come to watch us play. It's about how we were brought up, bringing people together and using the game as medicine and passing that medicine on.
ABC: Why is it called a medicine game?
LT: Every Spring, we'll have an actual medicine game where there's a set place on a reservation — a big field. It's medicine game because we play the game how it is supposed to be played and how it used to be played. You're only allowed to use a wooden stick because we believe the medicine is in the stick. We believe that it's in the ball too. It's medicine for the community. Everyone can come use their own medicine. But anytime throughout the year, someone might need the ceremony done. So, they might have their fortune told and be told they need a ceremony done — the medicine game — and they'll make their own ball and they bring the community together and the game will be for that person because they might be sick with cancer or something. We have this game for that person. But every Spring we have the game as a renewal. When the new plant life comes up, the snow is gone and everything is coming back to life, we renew our medicine game because its our lacrosse season. It's played between everyone in the community. You can be 80-years-old or a kid. If you want to play, you can hop in but you have to expect to play and possibly get hurt. We all use wooden sticks. It's not about winning or losing, it's about the medicine and the game. My brother, Jeremy, puts it the best way, 'Everyone on that field is playing for the people who can't play off the field.' Some of the players are playing for a different purpose. That 80-year-old man might be playing to get some energy from the young boys that are out there running and playing their hardest. Those little 9 or 10-year-old kids are there to learn to pass it on to the next generations. The mid-age people who are in their prime are there to give it all they got. They say when you get hurt, you're giving that energy to someone else. We are taught respect, a clear mind, and to play with a lot of heart and hard work in those medicine games and we carry that on into the present day game. It was never about scoring goals, getting assists, or winning the game, it's about going out there, putting forth the effort and having a positive attitude while you're doing it. That's what my father always taught us. When I say play with a clear mind, you're not supposed to get mad. It's a contact sport. We heard a lot of racial slurs growing up but my father led by example and we always looked up to him so we wouldn't get mad on the field and if we did, we were sat down and he would talk to us. But our religion also teaches us you aren't allowed to do anything under the influence, so if you come to one of our sacred ceremonies in the longhouse, which is similar to a church, you have to be sober and it's the same with lacrosse. You're not supposed to touch the stick if you're under the influence.
MT: It's the men versus the boys. If you have children, you're a man. So, I'm a boy and Lyle is a man.
ABC: Who are the Thompson brothers as a family?
MT: I'm Miles and my Native American name is Giaehgwaeh, which means "He strikes the sun." Lyle is Deyhahsanoonedy, which means "He's flying over us." My brother that is older than me is Jerome or Susquehanna, which means "Large tree top." Jeremy, the oldest brother is Gaä Gwa Gyehe, which means "The sun is leaning."
ABC: Of whom and what does your company consist?
LT: It [Thompson Brothers Lacrosse] consists of four brothers and Bill [O'Brien]. The plan started as the four brothers when my brothers were getting highly recruited back in high school. We were all good lacrosse players and knew we had a future in the game. We saw different companies like Mohawk Lacrosse, who did a good job of building a brand, and we wanted to do that. We planned on doing something like that after college but once we started to blow up in college, we brought it up to Bill [who is now the brothers' agent].
MT: Lyle and I talked about it at school. We talked about how we were going to try to start our own business because he's a good drawer and can design stuff so we pitched it to Bill, who is Haina's [Jerome] best friend. Bill is a smart guy. He went to school for business and marketing. He was working down in New York and he came up with a rough business plan and we looked at it and thought it was pretty good. He was working a full-time job in New York so he decided to quit and asked us if we were serious about making a company and coming together. This is Bill's full-time job. We grew up always wanting to be together and that's why we decided to stick together. Jeremy was signed with Nike and I could have easily gone with Warrior or Under Armour but I didn't want to do that. I wanted all of us to be together and I even wanted to bring my brother Jerome with us because he didn't go to college so he wasn't recognized and no one really knew about him. So Nike ended up sponsoring all of us.
ABC: You said you had to deal with some racism when you were younger. Have people started to embrace and become fascinated with your culture as y'all have come to dominate on the field?
MT: On ESPN, they they said something about Lyle flying over Loyola's defense right now [Lyle's Native name means "He's flying over us"]. I think that gets people to understand and accept our culture a lot more.
LT: I think there is a huge change from my freshmen season in college to my senior season. I think the problem was that a lot of people didn't know this was a Native American game. They didn't know the history of this game and that's something we stress at our camps because we feel that's important. It's taught us so much. I think us blowing up at Albany [where the two played in college] helped open people's eyes. The other thing it did was give the kids growing up so much more opportunity. It's opened the kids' eyes and the college coaches' eyes. They see they should give these kids a chance because they're talented. It's important because we give them a reason to work hard. A simple letter from college might make a kid go down a better path.
ABC: How does Thompson Brothers Lacrosse operate?
MT: We do camps, clinics, appearances and we have merchandise.
LT: We are basically trying to grow the game and as a company. We'd like to get into tournaments and select teams. We want to be surrounded by lacrosse and have people see Thompson Brothers Lacrosse everywhere.
ABC: How do you plan on growing the game in Georgia?
LT: The same way we grow the game anywhere else: by doing what we do. For someone who has never played the game, it would be just to watch it. It's easy for a kid to pick up. It takes a lot of skills but at the same time the game is young and when a game is young there is more opportunity. There is a spot for anyone in this game if you put in the work. We are always trying to get to new places with Thompson Brothers Lacrosse. From what I hear, lacrosse is growing faster in Georgia and California than anywhere else. Another important part to us is hitting some Native communities because it's a Native American game and there aren't a lot of tribe that aren't Iroquois who play the game like we do. This summer I'll be doing a speaking event at the Cherokee Nation.
MT: We also have a camp here in Georgia next Saturday from 12 to 4 at Northview High School and one at the Cherokee Nation around the speaking event.
ABC: What does your sponsorship with Nike and relationship with N7 entail?
LT: We're Nike athletes. We both signed with Nike coming out of college. My oldest brother has been with them for four years now. It's a good partnership because they're on the same mission as we are and they're new to lacrosse. Anytime Nike gets involved with a sport, they're good for that sport because of who they are. They're completely behind what we do and help us out a lot. They made two pairs of cleats for us. They [the shoes] both tell a story that we want to tell. The first one is the Water Pack. It's a story about when Jeremy was going through tough times with drugs and alcohol. My father took him to a creek and made him look into the water and asked him what he saw. He said he saw that the water couldn't be stopped even with the things in the creek that were trying to act as roadblocks. But there's no stopping water. It turned Jeremy's life around because he saw the alcohol and drugs as a roadblock and he put himself in as the water.
MT: The color of the shoe is black representing the dark times in Jeremy's life and the blue represents the water getting those the obstacles.
LT: It's a Huarache lacrosse cleat. They also made a turf. Then, the next shoe they just released is called the Creator's Pack because this [lacrosse] is the Creator's Game. The brown resembles the wood from the stick and there is detail in there that represents the netting. The red resembles the Onondaga Redhawks, who we play for in the Summer. It's something we care a lot about because it's our hometown.
MT: Teddy Bridgewater of the Minnesota Vikings and Chris Hogan who used to play for the Buffalo Bills wear our shoes.
ABC: What's the end game? Do you plan to return to your reservation? Do you think you'll always be connected to the game?
LT: We will without a doubt always be connected to the game of lacrosse — there's no getting away from that. We're not people who are going to move away from reservation but if we have to it will be to our wives' reservation. No matter where we end up, we'll be surrounded by the game. I hope to be playing for a long time. There's an old Sixth league and the men play until they can't run around anymore. Our faith keeper is pushing 85 and he gets out there.